MoonDog Motors offers intake manifolds for your Tri-Power or other General Motor Project


We Accept:

   Cash

   Card

  Paypal

1961-1963 Pontiac Part # 582422

$200.00

1959 Pontiac part # 877027

$200

Cadillac 390 cid 4bbl

$150.00

Struggling to get your Tri-power project started? We can help with that. Moondog Motors offers a variety of bare manifolds, as well as small parts. All parts distributed by Moondog Motors are original GM parts. If you have questions please give us a call (571) 221-2095 

1965 GTO Tri-Power part# 9778818 date code L54 (12/05/1964)

Just got this in, next in line for rebuilding Matching Carburetors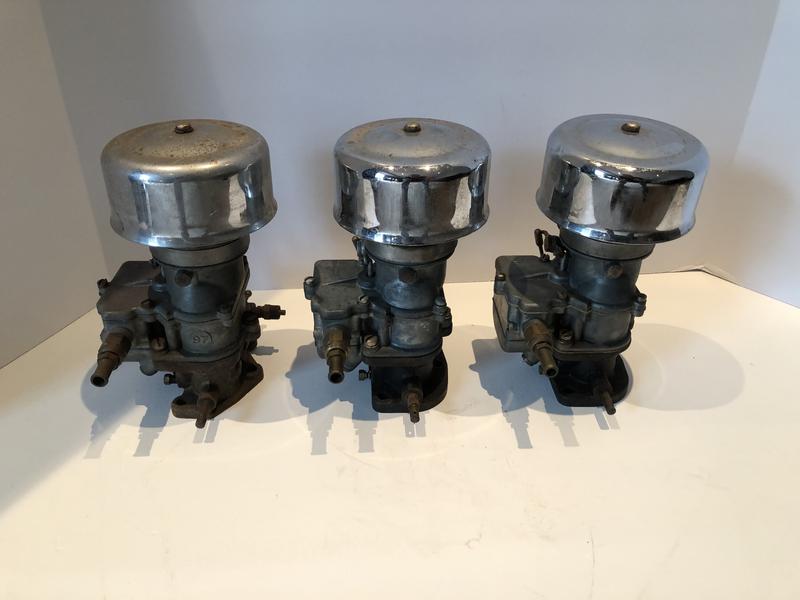 Very Rare and 

Hard to find this is a 1964 Pontiac 2+2 tri power 

air cleaner .

Completely Restored with correct tri power  AC /Delco Decal

Just in to Moon Dog Stock

Early Oldsmobile 3x2 Edelbrock Aluminum Intake. Part # OL396 With Stromberg carburetors. Comes with Three two's linkage and three air cleaners

Very Good condition

Three Bolt Base 2bbl 3x2 set

Stromberg Center is a 97 outer 2 carbs are 48s

mouse over picture to see both sides

1957-1958 Oldsmobile

    Part # 571145

1964 Pontiac Tri-Power. Just in to Moon Dog stock. Needs full restoration, very nice shape.